Styles, Colors, Patterns
CURBMAN makes curbing easy!
Simply choose a style, a color and a pattern.
Styles

Slant Style
Slant is the newest and most popular style. Its 4" back edge offers excellent retention of elevated or mounded flower beds. The front edge is placed even with the turf allowing for easy mowing and trimming. Don't ever edge again. Because of its slanted profile and updated look it is the perfect style for a decorative colored and stamped pattern.

Mower Style
Mower is the original old school landscape curbing style. It is over 20 years old and still going strong. It will offer the same flowerbed retention of slant. Because the profile is not flat it cannot be stamped, but can be colored for added decorative appeal.
Colors
These are representative of the color alternatives available, however, colors will vary depending on your monitor settings and will likely appear differently than shown.
Tan
Suede
Brown
Brick
Red
Amber
Santa Fe
Charcoal
Old School
Custom colors available on request. 25% deposit required.
Patterns
Concrete curbing may be stamped in several patterns to mimic brick, natural stone or even woodgrain. Patterns may be stamped on slant and curb styles.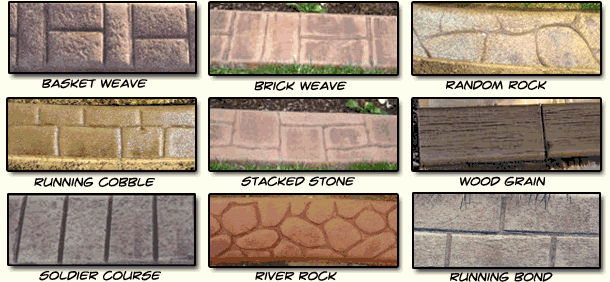 Actual Customer Installations
1) Hover over thumbnail to expand
2) Click on thumbnail to freeze
3) Click on expanded photo to close


Tan
Suede
Brown
Charcoal
Red
Brick
Santa Fe
Old School