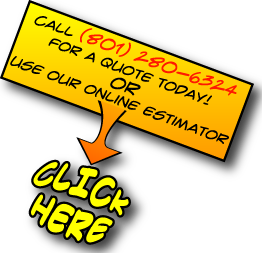 About Us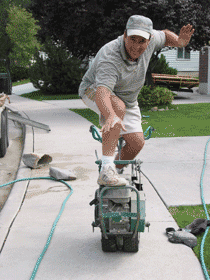 Riding the Ryan
Hi! I'm CURBMAN - my secret identity is Pete Lazarakis. I founded CURBMAN in 1995 with my wife Karen as my partner. We are both Utah natives and work tirelessly to make CURBMAN a success.

Since its inception CURBMAN'S mission has been to provide quality decorative concrete curbing at a good value while maintaining 100% customer satisfaction as can be evidenced by our perfect record at the Better Business Bureau.
I am an owner/operator - I personally labor alongside my crew on nearly every installation. As a result, 15 years of landscape curbing experience will come to bear in your yard. CURBMAN'S products are always of above average design, workmanship and durability.
Unlike many curbing outfits CURBMAN is a full time business for my wife and I, not a side or weekend job. CURBMAN'S crews install several hundred feet of curbing every day (weather permitting), helping several hundred customers every season. We often replace the work of others who have done it incorrectly.
We have just begun our third decade on the job and plan to continue for at least another couple of decades. You can be assured CURBMAN will take good care of you. So, take your time and peruse our website, look for our vivid color flyers at various media outlets. There you can see many different styles and colors of decorative curbing all in one convenient location.
BE ASSURED OF THIS: Every picture you see here, every installation on this site or in any of our advertising is an actual customer job installed by Curbman LLC. You would be surprised how rare this is in our industry. Most photos seen in the ads of others are stock pictures taken by equipment manufacturers and supply houses. Don't be fooled by imitators -
THERE IS NO SUBSTITUTE FOR EXPERIENCE!!!
Discover the convenience of decorative concrete curbing. Concrete borders can be plain grey cement, or can be colored and textured to mimic brick, natural stone and even wood grain.