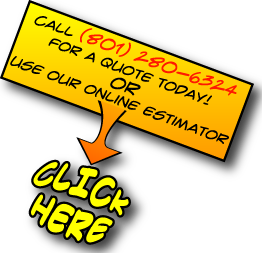 the Process
CURBMAN has been on the job in the Salt Lake valley since 1995; you can be assured that your design will be attractive, in scale with your property and landscape features, and most importantly, to your liking. CURBMAN accomplishes this by meeting with you prior to installation in order to mark the path of the curbing in your yard.
A sodcutter will be used to make a trench for the curbing. The cut sod is then lifted leaving a level and well compacted trench, ideal for the placement of concrete. New landscapes should be well graded and somewhat compacted for best results.
CURBMAN mixes concrete in small batches on site and then shovels it into the curbing hopper. The curbing machine extrudes a continuous border of concrete. CURBMAN uses Portland type I/II cement and only uses washed concrete sand. This is a washed mix of fines and small aggregate available only from reputable concrete batch plants. CURBMAN does not use road base, mortar, or asphalt sand.
Finally CURBMAN hand finishes your curbing and cuts control joints every 3 to 4 feet. The result is a very attractive, functional and highly durable concrete garden edging.
All tinted concrete has the color mixed into the concrete to insure beautiful and durable color. In addition the full treatment product line has a second accent color (release powders) stamped into the fresh concrete. CURBMAN uses only the highest quality decorative concrete sealer. Other CURBMAN products may also be optionally sealed. The result is a highly decorative and durable concrete edging.
PRICE IS NO SUBSTITUTE FOR EXPERIENCE!!!
Discover the convenience of decorative concrete curbing. Concrete borders can be plain grey cement, or can be colored and textured to mimic brick, natural stone and even wood grain.